International Program Academic Curriculum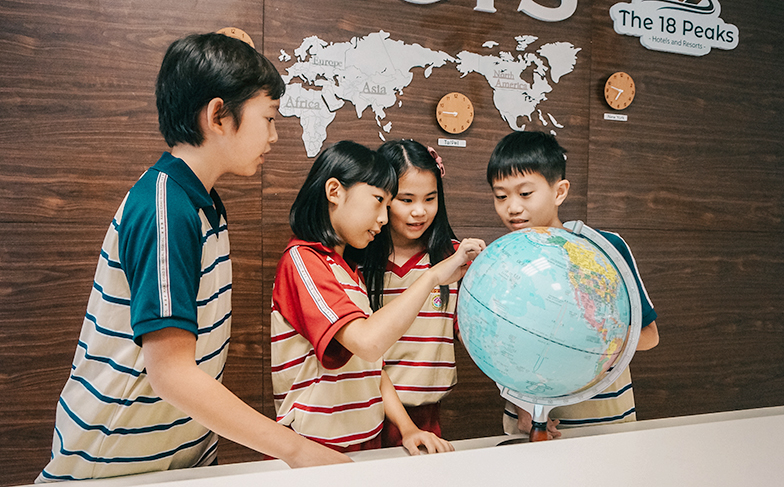 International Program Academic Curriculum
• KCIS Hsinchu students follow the Common Core State Standards (CCSS-USA) for all of their Literature, Language Arts, and Math classes, the Next Generation Science Standards (NGSS-USA) for all Science classes, and the California State Standards for Social Studies classes.
International Program (IP) Courses Offered
▪ Literature & Language Arts
Literature
Students who attend literature class are immersed in a variety of literary texts, including novels, short fiction and nonfiction. The goal of the classes is to improve vocabulary, reading comprehension skills, and knowledge of literature. Beyond this, students develop their ability to reflect on the texts to synthesize the information learned, to express thoughts, opinions, and ideas in written, artistic, and oral-presentation forms.
Language Arts
In Language Arts, students learn English as an exploration of the world around them. Drawing on National Geographic content, the curriculum transforms the learning experience through engaging images, articles and videos. Students will improve their grammar, vocabulary, reading comprehension, and listening and communication skills through various texts, while also sharpening their technical speaking skills through both functional and situational language interactions.
Drama (G7-8 SP/IP, G9 IP)
Drama class provides students with a truly unique experience in a strong student-centered curriculum. Opportunities to have fun, learn, and most importantly, grow as individuals through working with others as a team, pushes students beyond their own comfort level to be as expressive as possible. With lessons that provide the building blocks for theater, students learn about gesture and expression, stage mechanics and how they can use every facet to improve the audience's experience of their own performances. The drama class ascribes to the statement of inquiry that states that communication between the audience and the performer is enhanced when performers apply artistic skills and techniques to develop scripted work into realistic scenes.
▪ Math
The Math program builds on students' number and operation skills while laying a foundation for more abstract reasoning needed later on. Students will progressively work through geometry, statistics and probability, the number system, expressions and equations, and proportional reasoning and functions as they study Pre-Algebra and Algebra 1. The goals of the mathematics program are: to provide opportunities for students to challenge themselves and to encourage them to do so, to recognize that math permeates the world around us, to appreciate the usefulness, power and beauty of mathematics, to enjoy mathematics, and to develop patience and persistence when solving problems.
▪ Science
Science courses allow students to explore fundamental topics in Life, Earth, and Physical sciences. While studying life science, the course covers material from the basic units of life to the complexities of the human body. In Earth science, students learn about the structure of the Earth, the atmosphere, stars, galaxies, and how all of the components work together to form our universe. When focusing on physical science, students are able to explore physical laws that define our world, including force, motion, gas behavior, electricity, and light. Through hands-on experiments and comprehensive discussion, a deeper understanding of scientific concepts and vocabulary is reached. Students are challenged to navigate experiments in student-led groups with only some guidance, in order to encourage independent thinking and problem-solving. These courses work to develop students' use of the scientific method, and these skills are solidified by the completion of a science fair project at the end of the year.
▪ Social Studies
Social studies is a multi-disciplinary, integrated approach to the study of people, their physical environment, histories, traditions and cultures. Within social studies, the fields of history and geography provide the students with a framework for defining and interacting with their world. The purpose of social studies is to provide students with a solid factual and conceptual foundation of geography, cultures, politics, religions and movements that have led to national and global interaction, as well as the interdependence we see in the world today. Social Studies is also a way for students to have a better understanding of the world and make sure that it is protected for generations to come by preparing them to make a positive difference as thoughtful, active citizens in an ever-changing, diverse global community.
▪ Chinese/中文
語言學習不應只侷限在書中字句,而是透過文章與作者進行深度對話,並與學生生活經驗連結、加以活用。因此,在中文課,學生所學到的不僅僅是書本上的基本知識,還多了生活層面的應用,更重要的是教孩子如何使用你的工具(中文),開啟通往世界的大門。
▪ Foreign Languages
French
Students who attend the French foreign language courses gain a basic introduction to the French Language. They are able to greet each other, have simple conversations, and read and write simple sentences. They are exposed to the different expressions of French culture worldwide. The approach in class is interactive and communicative, with students having opportunities to practice the language through a variety of whole-class, group, and partner activities.
Spanish
The Spanish courses focus on the four pillars of language - reading, writing, listening, and oral communication. Students are encouraged to acquire the language by learning about the aspects that make up the Spanish culture both past and present, as well as in all the regions where Spanish is spoken. The conclusion of the course is to leave students capable and comfortable communicating in Spanish while opening doors to new and far flung places in the world where the Spanish language is spoken.
▪ Performing Arts
The Performing Arts Program seeks to balance academics by creating an exhilarating environment that fosters students' understanding, participation in, and enjoyment of the arts. Performing Arts course options may include Dance, Drama/Theatre, Music, and the Visual Arts.
▪ Computer Science / Maker
The Computer Science courses are designed to introduce students to the discipline of Computer Science in an engaging, interactive, and collaborative manner. Students are taught key computer programming concepts such as variables, loops, conditionals, and language structure. Students also learn about the CS problem solving process, the app and game development process, and the basics of physical computing. These workflow processes allow the students to plan and produce projects on a bigger scale as they use HTML to create their own web pages, and the Blockly and JavaScript programming languages to develop artwork, apps, games, and code that interface with microcontrollers.
The Maker courses provide students with a venue to practice concepts that they have learned from Computer Science courses and other disciplines. The course introduces students to technology and skills such as 3D computer-aided design, 3D printing, laser cutting, circuits, microcontrollers, and robotics. Each Maker course builds on concepts and lessons from the previous one enabling students to gradually gain experience and build confidence. Students are empowered as they progress from building simple LED-based circuits to more sophisticated creations such as sensor-controlled rovers. The course takes a more open-ended approach and allows students to learn from making mistakes.
▪ Fast Link 快速連結